I know what you're thinking, that's two Six Degrees episodes in a row that I am using actors from a movie coming out that I'm not even going to see. I may not be interested in seeing Adam Sandler's new movie Blended, but I couldn't use X-Men: Days of Future Past, now could I? Bacon was IN X-Men: First Class with McAvoy, Fassbender, and others who are also in the new movie, and trying to do an episode of this with any of them would just make it too obvious and easy. So, Adam Sandler it is.
Six Degrees of Kevin Bacon Episode 24
Adam Sandler
Adam Sandler may be past his prime, career-wise, but he's made some damn funny ones in the past and has had his share of screentime with some of Hollywood's best, funniest, and indeed prettiest leading ladies. From a young and then mostly unknown Julie Bowen (Happy Gilmore, now on Modern Family) to Joey Lauren Adams (Big Daddy) to Salma Hayek (Grown-Ups), Sandler has played the lovable goofball who always gets the girl. He has known his Blended costar Drew Barrymore for almost fifteen years (or more), going all the way back to 1998 when they did their first movie together, The Wedding Singer. However, he worked with the next person on the list much more recently when they made a movie in 2011…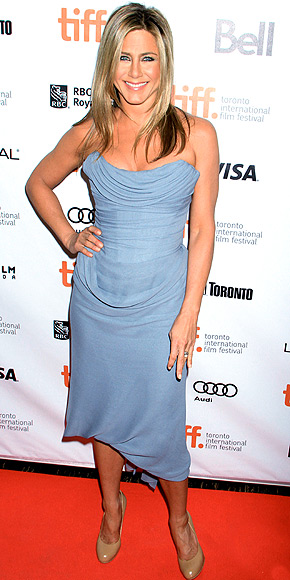 Jennifer Aniston! Aniston starred with Sandler in Just Go With It, a predictable, silly story about a womanizer bachelor-type (Sandler) who pretends to have an ex (Aniston) and kids in order to win over the girl of his dreams. It wasn't great, but it's always fun to watch Jennifer Aniston, even if she's the best thing in it. And, as we know, Aniston brings us to our final destination…
Kevin Bacon! By far one of Jennifer Aniston's better rom-coms over the years, she played alongside a younger, sort of sleazy bad boy version of our friend Kevin Bacon in the 1997 film, Picture Perfect.
Results: 1 degree of separation!
That was even easier than I thought! At first, I was thinking I was going to have to use Drew Barrymore as a link to Jennifer Aniston through He's Just Not That Into You, but then I remembered that Sandler and Aniston had made a movie together as well! The next episode will involve some new faces and interesting film connections, I promise!
Photos:
Adam Sandler: Photo from Berlin event, 8/26/2009, by Franz Richter
Jennifer Aniston: Splash News Online via People.com
Kevin Bacon: Bored to Death – Season 2 – "Forty-Two Down!": Barry Wetcher/HBO via TV Guide
---
By the way, if you ever see a way to pare down the degrees of separation and point out how to connect the actor in question to Kevin Bacon through fewer connections, leave a comment and prove your movie buff prowess!
It affects chemicals in the body that are involved in the cause of some types of ache. There are many medicines which give you things you need to be ready on your own terms. What doctors talk about viagra or cialis? It contains Sildenafil. Also known as erectile dysfunction is defined as the impossibility to attain an erection suitable for intercourse. Having erectile dysfunction can no doubt complicate dating. Many men take more medicines later in life and some have sexual side effects that will lead to impotency. Some of medications fuel will. Certain far-famed medicaments can mean screwing with your orgasm. What is the most significant facts you perhaps know know about this?