Aaron Sorkin means great television. Yeah, the stories go astray from time to time, the networks lose their faith in the ratings, and the dialogue can be hard to keep up with, but the man's ahead of his time. He makes great television even though the television networks and viewers may not be able to keep up.
However, The Newsroom is one of those shows that isn't just about a fun place to work (e.g. Sports Night). It's relevant, it's interesting, and as usual, it's got great actors and great dialogue. So, since season 2 is running right now on HBO, I thought I'd put the show's main character, Will McAvoy, played by Jeff Daniels, up for our weekly feature!
Six Degrees of Kevin Bacon: Episode 11
Jeff Daniels
Jeff Daniels is an actor who has flown mostly under the radar the past twenty years. Playing second fiddle to "bigger name" actors, and even when he gets a lead, it's in a movie that isn't really going to put him on the map as a key player. But finally, FINALLY, with The Newsroom, he is getting some front and center attention to show just how sharp and versatile he really is. Playing off Sam Waterston and Emily Mortimer doesn't hurt, but he carries his role well. But, it was on one of his earlier "big blockbuster" movies that he met a "new" friend…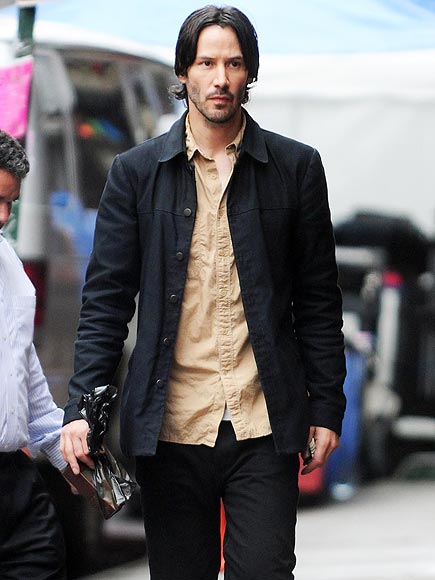 Keanu Reeves! (New=Neo, get it?) Reeves has made a career as an action and thriller star, in movies like Speed (where he worked with Daniels), The Matrix franchise, Street Kings, Constantine, etc., but he's pulled off a few rom-coms over the years as well. One in particular set him as a reformed asshole, transforming from a workaholic, misogynistic jerk into a kind, caring, and loving friend, alongside one of the most beautiful women of this generation…
Charlize Theron! A former model, South African actress Theron has made a name for herself by taking on some pretty meaty roles, many of them focusing on other talents than just being another pretty face. In Sweet November, she worked with Keanu Reeves, but that's not the only leading man this lady has come up against. It was in another, lesser-known movie about a kidnapping in which she met our favorite leading man…
Kevin Bacon! Trapped starred Theron, Bacon, and Stuart Townsend, with Bacon as the villainous kidnapper. But he did it so WELL! And with a sexual charge that would make any wife question her marriage. It's not one of his best known roles – I'm not sure if it even made the theaters – but it is one of my favorites. He was just too cool for school in that movie, and pitting Bacon against a little bitch like Townsend (here's a guy who's finally NOT one of my favorite people!) means it was way easy to root for the bad guy.
Results: 2 degrees of separation!
Woohoo! This one was actually really difficult. It took me a while to put Daniels and Bacon together, and I'd been holding out for an excuse to use Pleasantville as the connecting movie, but I was relieved when I just an answer!
Photos:
Jeff Daniels: TVGuide.com
Keanu Reeves: Ramey via People.com
Charlize Theron: Gage Skidmore
Kevin Bacon: Bored to Death – Season 2 – "Forty-Two Down!": Barry Wetcher/HBO via TV Guide
By the way, if you ever see a way to pare down the degrees of separation and point out how to connect the actor in question to Kevin Bacon through fewer connections, leave a comment and prove your movie buff prowess!
It affects chemicals in the body that are involved in the cause of some types of pain. There are many medicines which give you things you need to be ready on your own terms. What doctors talk about viagra or cialis? It contains Sildenafil. Also known as erectile dysfunction is defined as the impossibility to attain an erection suitable for intercourse. Having erectile dysfunction can no doubt complicate dating. Many men take more medicines later in life and some have sexual side effects that will lead to impotency. Some of medications fuel wish. Certain far-famed medicaments can mean screwing with your orgasm. What is the most significant facts you perhaps know know about this?