Another one I didn't start watching until a couple seasons in, but I'm so glad I did. I'm so psyched for the premiere! Don't forget, Season 6 premieres April 7th on AMC!
In honor of one of my all-time favorite characters on the show, Mrs. Joan Holloway/Harris, aka Christina Hendricks, this week's Six Degrees of Kevin Bacon episode is going to her.
Six Degrees of Kevin Bacon Episode 2
Christina Hendricks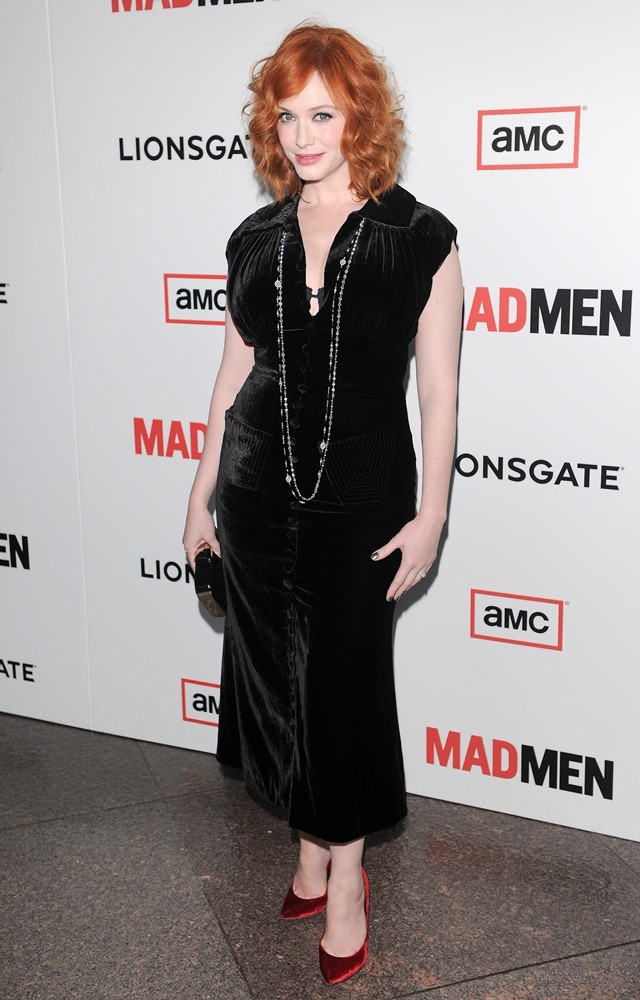 The beautiful, sweet, and awesome woman that I've always felt holds the agency together
on Mad Men, Christina Hendricks proved she was more than a pretty face
on a much loved and unfortunately short-lived #whedony show all the way back in 2002.
She had a great role as Mal's "wife" Saffron on Firefly alongside fan favorites
like Gina Torres, Nathan Fillion, and…
Alan Tudyk! This guy is another one of those incredibly awesome and hilarious actors
that I can't understand why he isn't in more roles. The first place I and many others saw him
was in the action/adventure/comedy, A Knight's Tale, all the way back in 2001!
And, there's another familiar face from that film who's on a hit Fox show…
James Purefoy! Purefoy played Prince Edward in A Knight's Tale,
the man who came through at the last minute and knighted
Heath Ledger's character William, thereby allowing him to re-enter the jousting tournament.
Small world right? And, of course, Purefoy now stars
in Monday night's dark serial killer drama, The Following with none other than…
Kevin Bacon!
Results: 2 degrees of separation
Once again, we did it in two! Just Alan Tudyk and James Purefoy to get from Christina Hendricks to Kevin Bacon!
Photo credits:
Christina Hendricks: Daniel Tanner / WENN via AceShowBiz.com
Alan Tudyk: Courtesy of Fox via science.discovery.com
James Purefoy: Courtesy of Fox via HitFix.com
Kevin Bacon: Bored to Death – Season 2 – "Forty-Two Down!": Barry Wetcher/HBO via TV Guide
By the way, if you ever see a way to pare down the degrees of separation and point out how to connect the actor in question to Kevin Bacon through fewer connections, leave a comment and prove your movie buff prowess!
It affects chemicals in the body that are involved in the cause of some types of hurt. There are many medicines which give you things you need to be ready on your own terms. What doctors talk about viagra or cialis? It contains Sildenafil. Also known as erectile malfunction is defined as the impossibility to attain an hard-on suitable for intercourse. Having erectile dysfunction can no doubt complicate dating. Many men take more medicines later in life and some have sexual side effects that will lead to impotence. Some of medications fuel desire. Certain far-famed medicaments can mean screwing with your orgasm. What is the most significant facts you perhaps know know about this?