The last of the catch-ups, Underemployed, is up first, followed by a very heavy episode of Revenge!
Underemployed
I was looking for something that felt a little more like real life when I tuned into this show. There are a few things that hit home, but for the most part, it is still a little too MTV glam to feel that true to life.
A girl breaks up with her boyfriend to go be a musician out in LA, but eight months later, comes back pregnant. None of the individuals in the little group of friends are really playing out their dream jobs. A wannabe male model as a caterer. A starving artist writer as a donut shop cashier. An environmental advocate has to take a corporate job with his father to make money to take care of his pregnant ex-girlfriend.
Again, some of it resonated and some of it didn't. Because of how full my Tuesday schedule is already, this one is far from making the cut, but it's really a pretty good show for the demographic, I'm assuming approximately 14-24 year olds, who want to go or plan to go to college, while throwing some real world (lowercase on purpose) stuff in the mix. Take a look if you are trying to fill your 10PM ET slot.
Revenge
Daniel is becoming quite the detective, trying to figure out what Ashley and his father are up to. While it seems he doesn't trust anyone right now, it's really great to see him taking charge of his own destiny. In season 1, everything was a reaction and it was all emotionally charged and shrouded in naivete. This season, it seems like he's wised up and is ready to play his family's games on their level.
Nolan gets closer to Padma, his new CFO, and it's a nice change from that crazy friend of Daniel's. At least this is a healthier relationship on the surface. Who knows, though? Maybe Padma has some secrets and a role to play in this revenge story…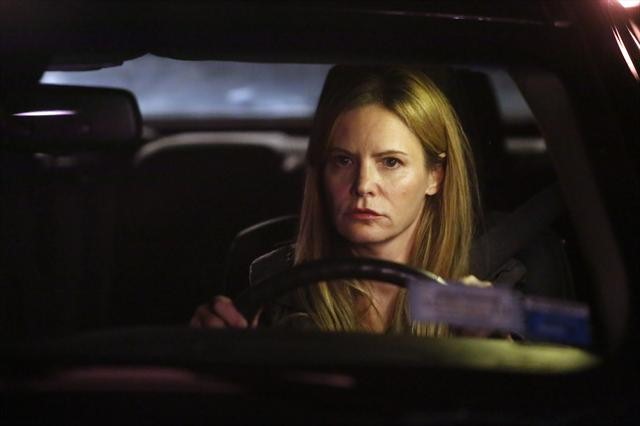 Emily convinces Amanda to take a bribe from Victoria for her father's journals (which if you remember from last week, she had doctored specifically for Charlotte's and Victoria's eyes), but things go south. Emily is coaching Amanda with an earpiece and microphone, but the tech is disrupted and in a moment of frustration and anger, Victoria yanks something away from Amanda, and Amanda loses her balance and falls backward over the railing from the second floor. Bleeding badly, she is rushed to the hospital.
Aiden goes after Emily's mother again at the little motel she manages, but this time, she turns the tables on him. There's more to her than the naive woman who fell for the white-haired man's story, and she's a force to be reckoned with herself.
Emily sees her mother at the hospital where Amanda is being treated, and she recalls a long-forgotten memory of a time when her mother tried to drown her while they were swimming. Knowing that her mother is capable of such things, she realizes that she may not be worth the search.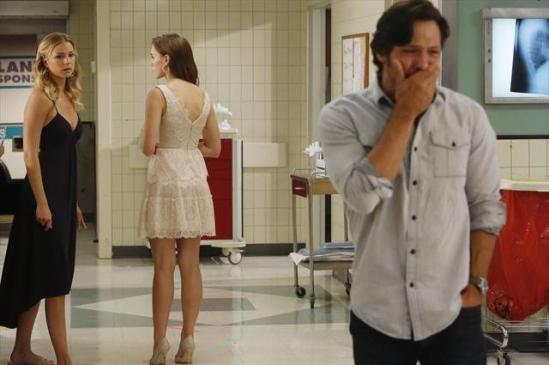 Meanwhile, Amanda's baby is delivered, but Amanda is in bad shape. Declan and Charlotte share a moment, while Jack worries about Amanda and his new baby.
It was a pretty heavy, pretty jam-packed episode to say the least. What I'm waiting for is whether Amanda survives to say Victoria pushed her, whether Daniel will pull a fast one on his entire family and do something they can't change or predict, and what Emily's going to do about some of the new knowledge she has about her mother.
This week:
Hooray! All caught up! Once again, a reminder, that CBS has Monday night off for the presidential debate. I'll be on Twitter for the #whedony chat, so if you're a big Joss Whedon fan/nerd like me, search the hashtag at 9PM ET to join in on the discussion 🙂
Tuesday is also jam-packed. We've got new ABC comedy premieres with Happy Endings and Don't Trust the B—- in Apt. 23. My wonderful, sweet favorite (tie for first w/Breckin Meyer) Peter Bash from TNT's Franklin and Bash (aka @MPG and Mark-Paul Gosselar) will be guest-starring on Don't Trust the B—- and it looks to be a loaded episode of Parenthood as well.
Got some bad news about Private Practice yesterday: the show, in its sixth season now, is going to be cancelled at about mid-season. With Tim Daly gone, is there really any reason to go on? Just kidding. But seriously, I think pretty much everybody has gone as far as they can go without making things too ridiculous. Addison has her baby and is happy with Jake. Amelia has recovered from her drug addiction. Charlotte got stuck with triplets (though I hope they'll be born by the finale!) with Cooper. The only wildcards are Violet and Sheldon. It's hard to say what would have happened to them in the long run.
Also, just FYI, found out that Animal Practice has also been cancelled. I had a feeling it might not last, which is partly why I took it out of the line-up here, but it's too bad–I wanted Justin Kirk to do well post-Weeds.
In any case, we've got a full week ahead, so be sure to watch your favorites on Tuesday night!
It affects chemicals in the body that are involved in the cause of some types of pain. There are many medicines which give you things you need to be ready on your own terms. What doctors talk about viagra or cialis? It contains Sildenafil. Also known as erectile disfunction is defined as the impossibility to attain an hard-on suitable for intercourse. Having erectile dysfunction can no doubt complicate dating. Many men take more medicines later in life and some have sexual side effects that will lead to impotence. Some of medications fuel desire. Certain far-famed medicaments can mean screwing with your orgasm. What is the most significant facts you perhaps know know about this?